Top 10 equipment items for circumnavigation with little kids
1. Life Jackets
Our boys both have a solid as well as self inflatable life jackets. Of course you can survive without one of them, but we found that both have their advantages. The self inflatable jacket is significantly safer for crossings and also more comfortable to wear for a long time, because it does not restrict the freedom of movement so much. Since the automatic vest triggers in contact with water and as the boys often play with water, we use the solid jackets here to avoid false inflation.
2. MOB Transponder
Under no circumstances a child should go overboard. Not just for drowning, but simply because you quickly get lost or cool off at sea. Even an adult quickly gets out of view behind swells, even in nice conditions. Child-overboard would be the ultimate meltdown. That's why the kids, when we're at sea, always where a lifeline on their self inflatable jacket. Each jacket is equipped with an AIS transponder that sends the person's position to all ships in the vicinity upon water contact, thus the person hopefully be recovered. The MOB is our last rescue net, we will do anything that it will never be used.
3. Netting
Not necessarily aesthetically, but our railing net increases my personal comfort level significantly. The 5 by 5 cm net ensures that the kids cannot fall, thus at least the lower 50cm on deck are safe. The net we installed all around the railing with the single exception of the very front of the bow. Here we couldn't manage to install it while fully ensuring easy access to the sails and anchor for the adults
4. Lifelines
The children both wear a chest strap that is connected via snap shackel to a daisychain, which is fixed to the boat. We found the harnesses for mountaineering much more comfortable compared to the sailing gear, and the safety shackels a lot safer. Normal snap shackels as they are often used for sailing, the kids just open and unsecured themselves. From our climbing experience, we were aware of snap shackels, that one need to turn and press up at the same time to unlock. So far these have been childproof. For securing a normal rope is sufficient, but the daisychains with their many eyelets have the great advantage that you can quickly shorten the safety line if necessary.
5. Toys on Board
On our frist trip, Jonathan was so small that he made no big claims. Joshua loved and still love books and we've read a lot, told stories and he listened to audiobooks when were beating against the wind and waves. We it got intense, he often just fell asleep. Also on this trip entertainment on board is not a problem. Our children often played role games, climbed the boat and used their toys. At the beginning of the passages, the audiobooks are the best entertainment for the boys as I am not yet able to read. Everyone is still a bit tired before we getting our sea legs. Later, playing at sea makes not much difference form playing at anchor. On board we have board games, painting and crafting utensils, Lego, matchbox cars, puzzles, magnet and construction games, all of them feasible to use on passage. In case the urge to move is too strong, we also dance in the ship or do a little sports session while at sea.
6. Splashing Toys
Of course the boys still are looking forward to visit the next beach or playground. Here, the sand toys should always brought along. For playing on the jetty it is always good to have buckets and nets with you. At the beach besides shovels we can´t miss our stand up paddle board and small bodyboards. As long as the kids can not swim, we have water wings and light lifejackets for swimming (ours were purchased from Decatlon). The life jackets do not bother so much on the arms, so our boys found them more comfortable than water wings. In addition, we already have scuba glasses, snorkels and flippers for the boys. They did quite well with them once aged 4 to 5 years. Water shoes are important for those who venture into the Pacific, the corals are pointed and can easily hurt small children's feet. If you are going on a long distance trip, we recommend to buy all children's toys in Europe, in the Caribbean or in the Pacific you will not find most of the toys and what you find is incredibly expensive.
7. Diapers
Joni still wears diapers and we usually use disposable ones. At sea, the stink bombs are extremely impractical. A disposable diaper does not decompose in the ocean until 450 years, thus disposal at sea is not an option. Carrying disposable diapers with you to the nearest port is an option, if there's a working infrastructure there - but what if you're anchored in front of a coral island? In addition, the used diapers quickly start to get smelly really bad - and I mean really really bad, even if each diaper is individually packaged and stored in a second bag, the ammonia smell is really penetrating. After considering back and forth, we finally purchased cloth diapers. At first, especially Christian was skeptical. Of course, cloth diapers are more elaborate than disposable diapers, but not as exhausting as we thought initially. We built a diaper washing machine, a simple net into which we put the diapers and troll behind Moya. Afterwards, we quickly rinse in fresh water and let them dry before re-using them. This solution is much less smelly and saving lots of trash.
8. Babystrap/Stroller
If you dock in the city harbor, a stroller is really good to have around. It increases the radius of exploration considerably, if the children are not yet walking very well, it lowers the annoying factor and is great for bringing the kids to sleep while exploring as well as to store all the children's equipment. If we needed room for both children or if we went shopping to stock up, the coaster wagon worked very well for us. The big drawback of stroller and wagon is the weight and the fact that you ll often land in areas, which are not well accessible with a chart. On our first trip our stroller was always around, now we hardly use it, since Joni already likes to run and walk around. In the event that he gets tired, we now almost always have the baby carrier with us, which can be also used on the beach or in mountainous terrain and is not so much trouble to carry around. The kids now also owning a scooter and a little bike. When the kids are on the move with these, we are able to travel much longer distances in less time, at least when the terrain is ok.
9. A safe place
When Joni was still a baby, we had a hanging swing with us in the deck salon, where the baby could lie comfortably and was still within our reach. He also liked to sit in the cockpit with us in his booster seat. For Joshua, we did not have a booster seat with us, but worked outside only with linen. In the ship, we attached lee sails to every berth, where the children lie down voluntarily when the sea was rough. When Christian and I both worked on the sails or when maneuvering in the habor, the children usually stood inside, either in the bunk, in Joshua's berth, where all the toys are or in the deck saloon. Only when the sea is calm they were leashed outside in the cockpit while we were on the foredeck. Most of the time this strategy worked well, except for minor incidents e.g. when the boys were fighting and screaming, then it was a pain to secure Moya before heading in to have a look what´s going on.
10. Christmas and Easter gear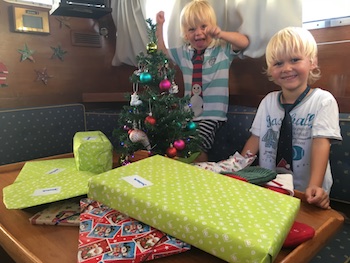 Christmas and Easter gear are not high on the list of priorities. However, it is nice to see the excitement of the kids, when setting a small Christmas tree with Christmas decorations or when going on a Easter hunt. It is best to bring these things and possibly also presents from Europe (or ask visitors on board to bring them along) as some items can not be bought in many countries.
With the above equipment we have done well so far. Clothing plays only a minor role on the our route, where it´s always warm, but it was still helpful to have the next T-shirt size on board.
Continue to our board routine: On Board Routine