12 Entertainment tips for passagemaking with little children
Beach, water, digging, running and much more - on land no entertainment program is necessary for the little ones. That´s different on passage. The children often are playing with what's lying around, sometimes they even play with their toys, but now and then the little ones want a little more attention.
1. Small navigators, helmsmen, smutjes and so on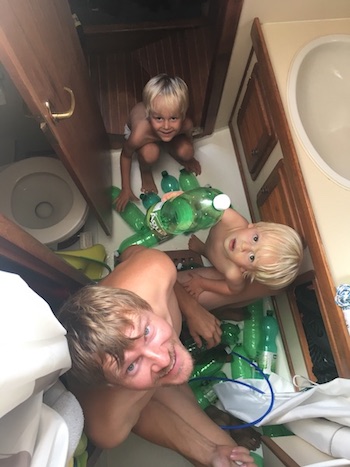 In general, we found that our children enjoy doing what we do. This means they love being integrated into on-board activities. Finding appropriate tasks for small children can be difficult, here are the activities we came up with: In coastal waters, the boys help keeping track of tons and ships. Every time they spot something new, thus help the captain navigating they feel very important. Standing at the helm is only possible on open sea at calm conditions, this is something our little ones really enjoy.
Regularly Joshua is already responsible for our safety panels on board, by switching on and off the anchor light, he already controls navigation, anchor windlass and much more, thus contributing to life on board and, eventually, even learning to read a bit. Both boys like to help in the pantry, dough kneading, cooking, rinsing and sweeping are great in small doses.
Entertainment at quiet or moderate sailing conditions
2. Crafting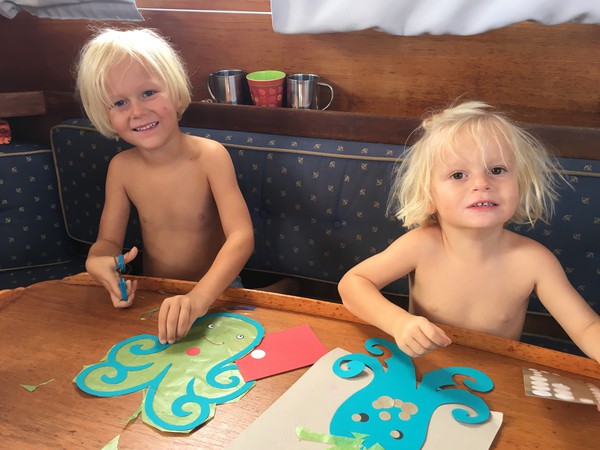 Glue, scissors, colorful paper and wooden sticks or shells to glue are perfect for crafting. Crafting kits are especially great, but lanterns, dragons and window pictures can also be tinkered with on-board materials, but only if the weather is good.
3. Board games
The boys love playing board games with mom and dad. Unfortunately, many classical board games only work at anchor or in mild conditions. Magnetic games, puzzles and the Ratz Fatz series from Haba can still be played in moderate conditions.
4. Reading
We are reading with the kids every day, with the exception of the beginning of passage, when you need a very sturdy stomach, even if you usually have no problems with seasickness. eBooks can be exchanged with other family boats, but it is nicer to be able to look at real books for small children.
What to do when it´s bumpy
In rough seas or at the beginning of a passage, when we are still lacking our sea legs, the following activities have proved successful:
5. Card games
With the little ones many card games are not working yet. Uno Junior is great, even for the little ones. It´s not too long and very entertaining, Joni can even join in, even in rough seas.
6. Construction games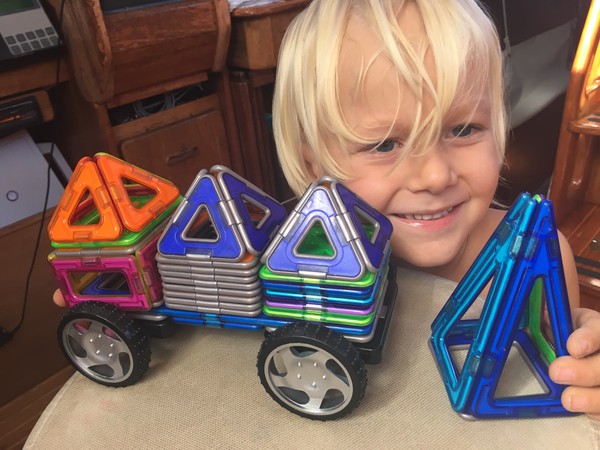 Building with magnets or Lego works even in when it´s rocky. Small Lego can then be found everywhere in the boat, thus we love Lego Duplo. We have not seen Lego Duplo outside Europe, normal Legos are rare and very expensive. It´s best if you can bring lego from home. Legos are one of our most important entertainment modules on board, we should have brought more. Wooden bricks are not that practical on board. Construction kits with screws are great too, the guys are very creative with them and are constructing new items almost every day.
7. Painting
Painting with watercolors is only possible at mild conditions, but with crayons the boys are coloring even in rough conditions. The pens need to be neatly stowed, otherwise they will roll off in each wave. Coloring books are great, but our kids like best drawing own pictures, even if only one or two pens are available in rough seas. When it's quieter, Joshua starts to paint his experiences, these are great memories.
8. Roleplay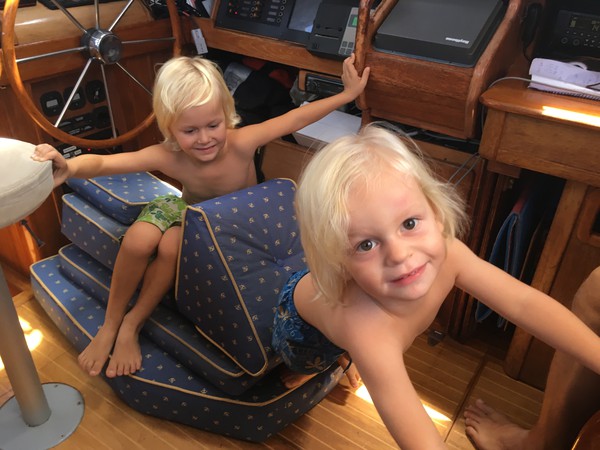 The boys like to play role games on their own or together with us. Sometimes they are firefighters, captains or even animals, that works in most conditions. If the sea permits, we are building boats, cars or houses made of cushions and blankets. Matchbox cars can be driven back and forth even when the boat is tilting, they even come back in these conditions. Plastic animals then sleep on the side, but are still playable.
9. Audiobooks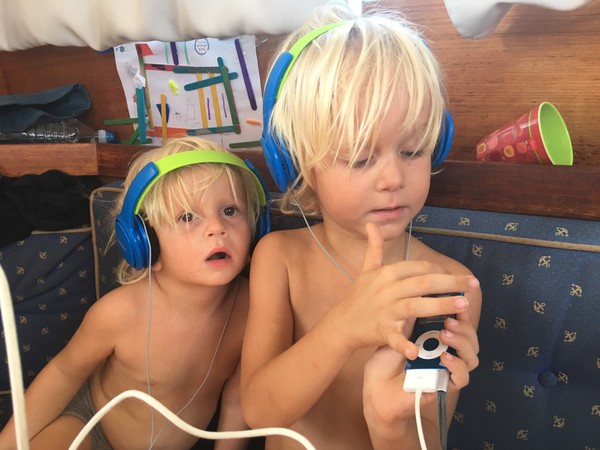 Audio books are the salvation, at the beginning of a passage or when it rages outside. While listening our kids are mostly constructing or playing with cars or animals. We have a wide selection of CDs on board plus electronic tracks on MP3. Headset can be gold (for parents). Electronic audiobooks can be swapt with other blue water families.
Energy reduction while moving
Especially at the beginning of a new crossing, the children have to adjust to the limited space on board. Sometimes one can even feel the energy surplus.
10. Dancing
The boys love music and dancing in the salon. Best to children's songs. They are on the move and reducing their aggression while dancing. Of course this is not comparable to running on the beach, but it often helps.
11. Obstacle course & Ship Olympics
When dancing is not enough, we painted small obstacle courses on paper. The children have to find their way through the ship and overcome obstacles e.g. climbing up the mast support, running up and down to the cockpit, crawling under our berth and so on. There are no limits for creativity, the same applies for the Ship Olympiad, where we introduce the various disciplines from jumping jacks to somersaults to squats.
Both activities only work if the sea is not too rough.
What to do when both parents are occupied
Sometimes there are situations when both adults are needed on deck and the children have to cope. Although many maneuvers can be handled by one person, certain things, e.g. setting sail, anchoring and tying up are easier together. In these situations the kids often keep playing what they did before. However, if tasks take long, e.g. if authorities are on board or if the sailing configuration need to be completely changed, it is helpful to keep the kids busy:
12. Videos & Computer Games
We handle videos and electronic games very restrictively on board. For the children it is therefore something special, if they are allowed to play with the tablet or to watch movies. This way we can be so sure that the boys are watching and not fighting, when Christian and I are working with Moya. Under way, there is a lively barter on films between the family boats.
When the time gets long ...
I have put together a small emergency box in Europe, which I can refer to when the children have a bad day at sea. After one year of living aboard, the box still exists, meaning it is not needed so often. It contains crafting sheets, little books, travel blocks, small games and toys. Novel toys have always been a hit and made the kids more tolerable again.