22.07.2018 - Suwarrow, Cook Islands; Status July 2018: active
First geocache at Suwarrow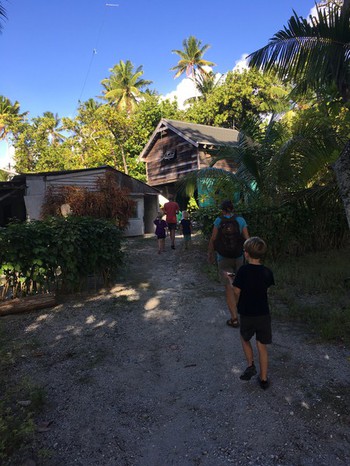 Follow the waypoints and solve the quests while going. When all are solved, you should have seven figures, replace them with the corresponding letters in the final position and find the little treasure.
You will need shoes, a GPS device, a pen plus paper for notes and possible the support of an adult to do the adventure. It will take approximately an hour to find the cache.
Start your quest at position 13°14.908'S; 163°06.365'W:
A = Find Kallisto! What is her number?
B = Determine the distance between Suwarrow and Alekistan? Take the sum of the third and the last number.
Go to position 13°15.113'S; 163°06.206'W
C = How many islands do you see?
Go to position 13°14.940'S; 163°06.317'W
D = How many windows do you see?
E = Count the trees, other than coconut palm trees, at your right hand side, directly at the path, on your way to position 13°14.928'S; 163°06.278'W
Go to position 13°14.943'S; 163°06.336'W
F = How many pillars shelter the rangers? Subtract 2
G = How many flowers are with Tom?
Take your results and replace them with the letters in the following position:
13° 1F. BA0'S; 163°0C.EGD'W
Now you are only a glimpse away from finding the cache. Good luck!
This post has no comments.