Moyas website is partly available in english for our none german speaking friends. Many translations are still missing and a blue box presents the original german content instead. We have heard Google translator is doing a great job.
The blue water adventures of Moya and her family crew of four
Hi! We, Christian, Sabrina and our two 3 and 5 year old boys Joshua and Jonathan are the crew of our 39 feet steel slup Moya. We are exploring remote places, beautiful nature and different cultures while traveling our blue planet.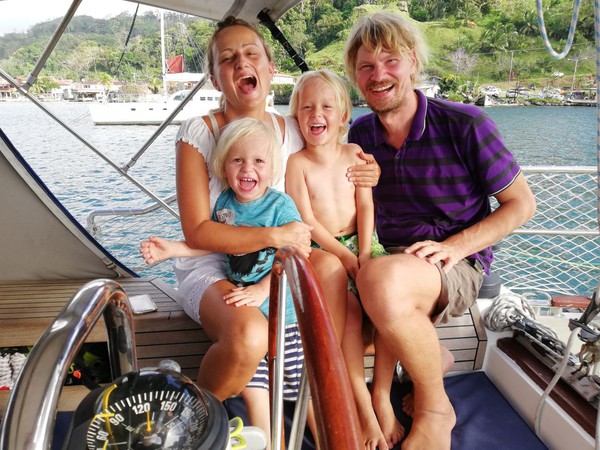 Back in 2015, we started our family cruise with a baby and a toddler along the European Coast and learned to love sailing with little ones. After leaving Moya for two years in Portugal, we picked her up September 2017 and resumed our travels.
First, we turned the bow towards Africa, where we explored the Atlantic coast of oriental Morocco. We climbed the wonderful hiking trails of the Canary Islands and enjoyed a second glimpse of Africa in Cape Verde before we crossed the Atlantic. After our landfall in Martinique, we sailed the islands of the Windward Antilles and felt the Caribbean vibe. In Venezuela and Colombia we discovered the great South American way of life and lost ourselves among white sandy beaches and crystal clear waters in the San Blas Islands in Panama. Early April 2018 we transited the Panama Canal and started on our longest passage at sea. After 36 days on the Pacific ocean, we gladly arrived in French Polynesia, where we started to explore the breathtaking nature and amazing culture of the Marquees Islands. We swam with sharks and manta rays in the Tuamotus and society islands and enjoyed the heart warming hospitality of the people in Cook, Samoa and Tonga. Currently we are starting to explore Melanesia, where we learn to survive by traditional trading with goods.
We would love to invite you on a virtual voyage with us and Moya on our log page and would be delighted if you share your thoughts via the comment function.
Looking very much forward to hear from you guys.