Provisioning for the Atlantic- or Pacific crossing
How much food is required?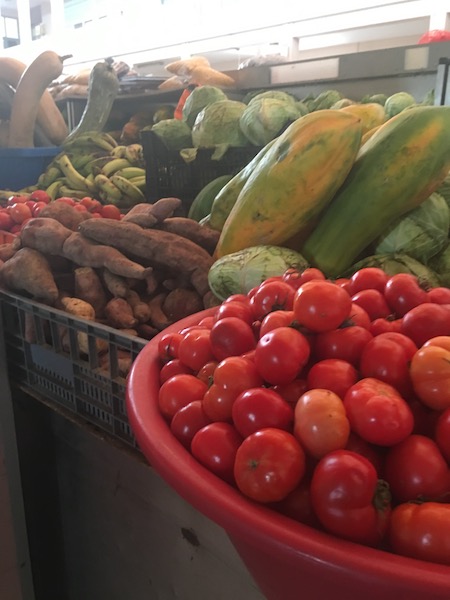 We talked to many yachtsmen about how they stocked for ocean passages and found that there was no consistent approach to the subject. Some cruisers set up a meal plan for a week or two, calculate what amounts of food they require accordingly and scale it up for a certain period of time. Other sailors paid particular attention to food preparation and stocked large quantities of fast food.
We monitored our eating habits while on board before planning our provisioning. Therefore, we knew that we require e.g. 500g pasta, 400g rice, 200g polenta, etc. to prepare a main meal for 2 adults and 2 children. For planning the amounts of durable food, we determined the duration for provisioning and afterwards calculated the number of meals. For example 2 months correspond to 60 breakfast, lunch and dinner.
Determining for which duration we would like to provision was difficult as we did not know whether we would get all grocery supplies in the Caribbean or French Polynesia. Also, we figured that grocery costs would increase in both areas. For the Atlantic, we thus planned with supplies for 2 months for the Pacific even with supplies for 4 months including passages and feeding on cheap supplies in areas with increased cost of living.
With our current experience, we would stock differently: we would create smaller stocks (for the passages only) for basic supplies such as flour, milk, pasta, rice. Many reasons are i) staple food are available everywhere at reasonable prices (/blauwasser/lebensmittelpreise) and ii) invisible infestations of pests in these products already at the time of purchase.
Dry foods
For breakfast we mainly bought flour to make bread and bread spreads such as jam, cream cheese and Nutella, plus milk and cereal for the rougher days at sea. From 1kg flour we bake bread for three days, every fourth day we planned cereals with milk (each 1 package), thus we required 15kg of flour, 15 packages of cereals and so on for breakfast for 2 months.
Since we often eat a snack at noon, we planned soups, rice pudding, porridge, pancakes, fruits or cookies. Planning was done accordingly to the breakfast plan.
For dinner we estimated to have pasta every third day, rice every third day and polenta, couscous and burritos for the remaining days. With these assumptions we calculated 20 packages of pasta (500g), 8kg rice, 1kg polenta, 1kg couscous, 7 packages burittos for dinner for 2 months.
Additionally, we also planned canned food, fruits and vegetables and chilled goods.
Canned goods
Preserves last for a very long time, so we took as much canned food as our bilge allowed. We roughly estimated proportions for fish, meat or canned vegetables. As we wanted to have meat once a week, we planned with 9 cans of corned beef, the same for fish. Remaining bilge space was filled with canned vegetables and sauces. For ketchup, mustard, vinegar we stocked 2-3 bottles each and 7 bottles of oil, as I also use it for baking.
In the meantime we learned that canned corn and peas are available almost everywhere at very reasonable costs. In contrast canned tomatoes and olives are expensive in the Caribbean. Selection of salami and canned meats is limited in most places, but is very good on the French islands, both in the Caribbean and in French Polynesia. Canned ready to eat meals are not available in many countries or in a very small selection.
Eggs, fruits and vegetables
Shelf life and storage space limited amounts of fruits and vegetables on passage.
In our experience goods did last when stored in well ventilated vegi nets or as indicated for:
Less than 3 days: lettuce (in the fridge), grapes, pears, strawberries, plums
Up to 1 week: pineapple, mango, bananas, papaya (if bought green), peppers (fresh, not pre-cooled)
Up to 2 weeks: zucchini, egg plant, cucumbers, tomatoes (if bought green), leeks (in the fridge)
Up to 3 weeks: apples, oranges, carrots (fresh, not pre-cooled)
Longer than 3 weeks: pumpkin, cabbage, sweet potato, potatoes, onions, garlic, coconut
Given the shelf life larger quantities of lettuce or strawberries are not reasonable. Correspondingly, we ate dishes with more perishable produce at the beginning of passages and more durable produce later.
The children eat 2 pieces of fruit a day, adults 1 piece, thus we planned with 6 pieces fruit a day for 21 days = 126 pieces. We mainly bought apples and oranges as these lasted up to 3 weeks. Although bananas are great and last a week or more, if purchased green, they ripe at once and therefore are difficult to plan for. Bananas, pineapple, mangoes, lemons, papaya, pears and plums were purchased as a bonus.
For vegetables, our storage space on board was the limiting factor. In other words we stocked as much as possible for the Pacific crossing we carried 8kg potatoes, 5kg onions, 10 tubers garlic, 2kg carrots, 2kg zucchini, 5 pumpkins, 3 cabbages, 3kg tomatoes, 2kg cucumbers, 2 lettuces, 1kg cherry tomatoes, 1kg leek, 1kg celery, 1kg peppers, ginger. More durable vegetables lasted until the end of the 36-day crossing, the last pumpkin we ate 3 months after purchase in the Tuamotus.
We estimated our egg demand at 100 eggs for the Pacific crossing and used them for baking, cooking and breakfast. Again shelf life was limiting with 3-4 weeks when stored uncooled.
Refrigerated goods
Butter, cheese, yoghurt, sausage and cream cheese have been mainly intended for breakfast on board. Also with the chilled goods, we paid attention how long they would usually last and bought appropriate quantities accordingly (for example 250g butter last 2 weeks, thus we planned 5 butter for 2 months). We bought butter in plastic cans, vacuum-packed or waxed cheese and vacuumed sausage and meat. Yoghurt and fresh meat we planned only for the first week of passage.
Hygiene products
For toiletries, we did not do any detailed planning, instead we were already taking these goods in abundance from Europe (for example, 20 bottles of sunscreen) as these items are durable and the prices increase strongly when leaving Europe.
Here we bought our food
If possible, we shopped in larger supermarkets, as the selection is larger and the prices are cheaper than in the small shops. To reach the big markets we sometimes rented a car and then combined an island trip with shopping. On our route from Europe to French Polynesia we did not find big supermarkets in Cape Verde, most Windward Islands of the Caribbean, San Blas, in the Marquesas and the Tuamotus, here we shopped in the little shops. Accordingly, selection often was limited even when rummaged through several shops.
If possible, we bought fruit and vegetables in farmers markets. Imported pre-chilled products (e.g., carrots) often would perish within a few days when not refrigerated, and therefore are not suitable for longer passages. As a matter of fact, local fruits and vegetables lasted longest.
Food storage
Dry goods
Opened packages we always stored in airtight plastic containers. We vacuumed flour, sugar, rice, couscous and mashed potatoes to curb parasite problems at an early stage. Co-bought flour moths remain in the bags and can then be disposed of without spreading. In the tropics, eggs of weevils, which also hatch in vacuum-packed packaging, are often found in noodle or rice packs when they are being purchased. That's why we additionally store rice and pasta packaging in large plastic containers.
Dried beans, corn and lentils did not cause any problems in our hands so far and are stored in the original packaging in the bilge.
Eggs, fruits and vegetables
For both ocean crossings we hung 2 fruit and vegetable nets. One of them was outside during the Atlantic crossing, which was not ideal as we could not fully shade it. For the longer passage on the Pacific ocean, both nets were installed inside the ship. Moreover, we stored part of the vegetables during the Atlantic crossing in our bilge. Due to the poor ventilation we experienced rot, thus we changed storage conditions and kept all vegetables in nets or ventilated plastic containers during the Pacific crossing. Root vegetables were covered. For tomatoes and onions, we hung baskets. We also made sure that bananas, tomatoes and apples were stored separately as they would speed up the ripening process of other fruits. With respective conditions fresh produce lasted longer without a single case of rot or mold.
We stored eggs uncooled in our bilge and turned the egg cartons once or twice a week to extend the shelf life to 3-4 weeks.
Refrigerated goods
We reserved the fridge for dairy products, fresh meat, sausage, certain vegetables, beer and opened products. In principle, it is possible to pretreat butter and cheese in a way that they can be stored outside the refrigerator, but we never tried. So far, our refrigerator capacity has been sufficient even for the long crossings.
Lessons learned
Smaller stocks of staple foods (such as rice, pasta, milk, flour, dry beans, dry lentils) - respective goods can be obtained everywhere
Larger stocks of muesli & nutella ideally already in Europe. Whereas corn flakes and jams are available everywhere at reasonable costs, cereals and Nutella are expensive outside of Europe.
Canned tomatoes and olives are expensive in the Caribbean, thus stocks could be increased in Europe. Salami and meats can be best re-stocked on the French islands.
Avoid chilled fruit and vegetables, buy fresh produce from farmers market and store produce in well-ventilated areas