Bluewater Yacht for Sale
Motiva 39 S deck saloon and live-a-board yacht.
Well equipped & ready to go for circumnavigation.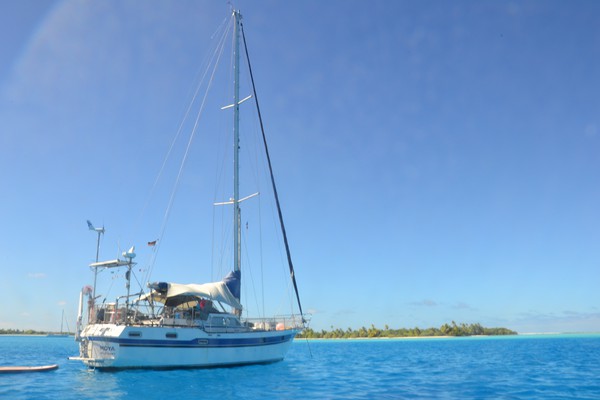 Moya brought the four of us halfway around the world. At the end of our two-year sabbatical we are now selling our bluewater decksaloon yacht, as we are returning to Germany: The steel yacht was built by the danish Boatyard Motiva and the preowners, she was launched 1994. In 2015-17 Moya had a major refit and was fully equipped for long distance sailing. She has proven herself as bluewater yacht on our voyage from Europe through the Atlantic and Pacific to the Indian Ocean. We have been living on board since 2017 and are currently sailing from Malaysia to the Mediterranean. We are selling the boat with all equipment, many tools and spare parts.
Although a 39ft ship may not seem huge, the decksaloon and the clever design of the yacht offer generous space for living on board with plenty of storage space, ideal for a family or a couple. A total of 6 berths even allowed us as a family of 4 to receive guests on board multiple times.
Moya was re-equipped with bluewater equipment 2015-17 (Watermaker, Windpilot, AIS, Mast Stages, Wind Generator, Solar Panels, Binimi Top, SSB Radio and much more). Together with the generous tanks for water (560l) and diesel (750l) this allows for months of completely self-sufficient cruising our wonderful planet.
The steel yacht with its long keel, the protected rudder, the sea fence, the strong rigging and the installed safety equipment (liferaft, satellite phone, EPRIB, MOB transponder to name only a few) provide a solid, safe home that can easily cope with heavy weather and nasty conditions. A strong anchor windlass, sturdy anchor harness and welded cleats on board allow for safe lying at anchor and in harbor in adverse conditions. With full insulation and 2 independent heating systems, Moya is also equipped for sailing higher latitudes.
Key Features
Strong and secure steel yacht built by the danish boatyard Motiva
12 m (39') center cockpit sloop with many safety features, launched 1994
Well equipped for bluewater sailing or circumnavigation in major refit 2015-2017
Proofed herself vital in whole gale force winds and crossing several oceans
Well designed for living on board, deck saloon yacht with second helm inside
Strong marinized industry Ford engine with well designed fueling system
Lots of storage, spares and tools
Sold by second owner, ready to go for voyaging
We are living on board since 2017 and will be returning to Germany at the end of our 2 years sabbatical
Current location: sailing back to the Mediterranean ETA June 2019
Price
129.000 Euros, including all equipment and features as posted in boat details
EU Tax is paid
Continue with the boat details